Latest news
The OFT team attended the GRDC Local Forum – Derrinallum in July and the Grains Research Update – Rokewood in August. Both events focused on discussing priority cropping issues for the Southern Region and included presentations on the latest research developments and applying these in farming systems to create enduring profitability for Australian grain growers. The local forum in Derrinallum provided a great opportunity for growers and advisors to have their say on important constraints to grains production and opportunities to increase overall farming profitability in their area. These events provide valuable opportunities for the OFT team to learn more about GRDC investment in research, development and extension and about priority topics and issues for grain growers. This enables the OFT team to focus our efforts on providing seasonally relevant information to growers and advisors including support for organisations conducting trial research in these key areas to share their research findings via OFT.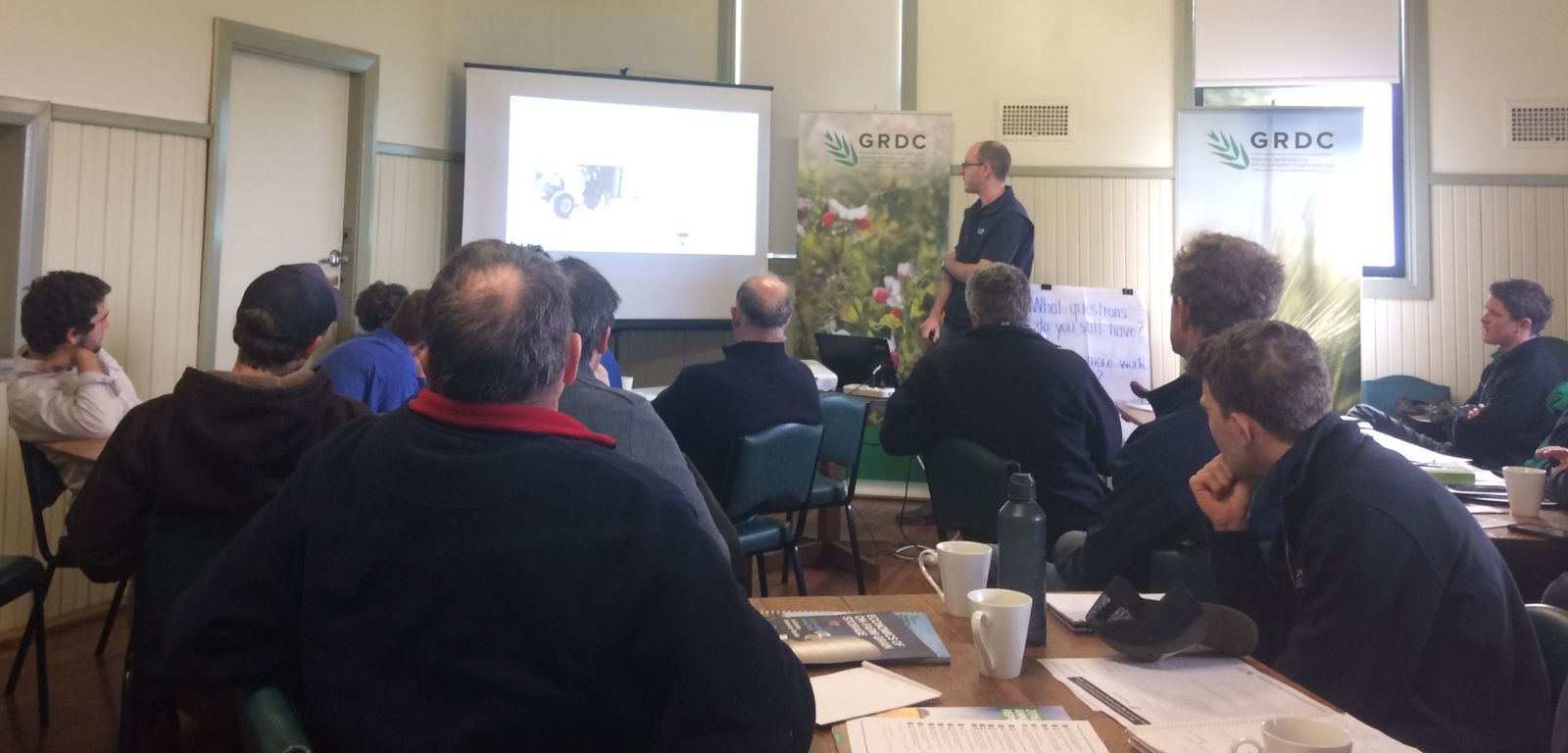 Ash Wallace, DEDJTR – AgVic, presenting his research on mid-row banding of nitrogen fertiliser (GRDC Local Forum – Derrinallum)
We look forward to hearing about the latest advancements in grains research at the upcoming 2019 GRDC Research Updates. See you there.
---
Southern Pulse Agronomy (SPA) has been a tri-state research program led by Agriculture Victoria Senior Research Agronomist, Dr Jason Brand, with funding from GRDC, DEDJTR-Vic, SARDI and NSW DPI that aims to increase farm profitability, reliability and profitability of pulses in southern Australia. SPA continues to deliver the latest information on new pulse varieties and their integration with the latest farming systems. Key learnings from the SPA program also provide advice to breeding programs on how latest farm management practices may influence breeding needs for the future. Over 400 trial projects from 16 years of trial research have recently been published on OFT as part of the SPA research program. To access this great resource, visit this 
page
on Online Farm Trials.
Bacterial blight in field peas 
Photo: © Jason Brand
A big thank you to Jason Brand for his feedback and support in making this valuable resource available via OFT for the Australian grains community.
---
The OFT team would like to congratulate CeRDI researchers, Judi Walters, Robert Milne and Assoc Prof Helen Thompson who recently published an OFT-focused article in the Rural Extension and Innovation Systems journal.
View the article
.

Further details of the article can be found in the citation below. Walters, Judi; Milne, Robert and Thompson, Helen. Online farm trials: A national web-based information source for Australian grains research, development and extension [online].Rural Extension and Innovation Systems Journal, Vol. 14, No. 1, 2018: 117-123.
---
| | |
| --- | --- |
| | |
| | Professor David Lamb, University of New England, searching over 2,600 grains trials available on OFT for the GRDC Southern Region (GRDC Research Updates, Goondiwindi). |
The 2018 GRDC Updates were a huge success with a large number of attendees at locations across the three GRDC regions. These annual updates are designed to deliver cutting edge research, development and extension information to grain growers and their advisers. They focus on communicating the most relevant and current research, building awareness and knowledge of key grains production and management issues and the best current applicable solutions. The OFT team attended updates in Wagga Wagga, Adelaide, Perth, Bendigo and Goondiwindi where we hosted the Federation University Australia/Online Farm Trials display. We provided training at the Update events to help users with their search queries, and with managing and sharing trial data and information on OFT including data entry and upload.
If you missed us at the updates and are interested in discussing training options for you organisation, including remote training using
Zoom
, please contact us at
oft@farmtrials.com.au
---
An embeddable version of the OFT search interface, or widget, is available for use on organisational websites.
Research organisations, grower groups or other grains industry stakeholders can provide access to their trial project information to visitors of their website, as well as over 4900 trials from 74 contributors across Australia. The widget can also be customised to integrate with the look and functionality of your website. To get access to the widget, go to
www.farmtrials.com.au/embed_trial_explorer
. If you require assistance with embedding the widget on your website or would like additional information, please contact the OFT team at
support@farmtrials.com.au
---